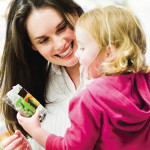 Team Works Divorce Mediation and Court Filing also co-sponsors a Coparenting Parent Education Program for parents involved in custody conflicts. We offer in-person courses and online coparenting courses. There are six and twelve week coparenting courses designed to help parents learn the skills to end their custody disputes with techniques to protect their children.
Dr. Deena Stacer is an international parent educator and high conflict intervention specialist who has been teaching high conflict and coparenting courses since 1997 for the San Diego Family Courts. She has also earned an international reputation as a specialist with family law and mental health professionals, who work with families in conflict over their child custody and child sharing issues.  Dr. Stacer has also served as a special master on high conflict custody cases, has mediated over 850 family law divorce cases. She is available to meet privately with parents to help them learn how to customize their child sharing plans and to teach parents how to create closer connections with the children while involved in litigation.
To learn more about Dr. Stacer's services, contact her at 800-980-0434 or email her at Doc@DeenaStacer.com. To learn more about the Coparenting Courses co-sponsored by Team Works, go to parentsinconflict.com.
To get started today with your TeamWorks Divorce Mediation contact us at 858-675-9225 or email us at teamworks@stacerlaw.com.