Divorce is most likely one of the most stressful life events you will experience. You do not have to do it all alone!
We have the tools and resources to help you with our legal experience and knowledge, but we also partner with experienced individuals who are experts in their fields and can assist you with various things, including real estate, home relocation, financial planning, therapy etc.
We understand that the idea of moving or selling your house during or after a divorce sounds completely overwhelming. That's why we are more than happy to recommend the services of Silver Linings Transitions.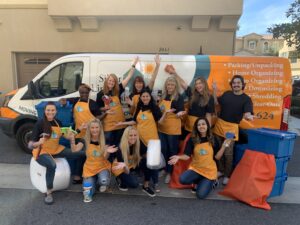 Whether you need help with organization, staging and preparing your home for the real estate market, as well as moving into a new home, de-cluttering, downsizing, unpacking and organizing your new space on your move-in day, the experienced team of Silver Linings Transitions is here to help you make the transition easier.
Their team partners with Realtors who understand the divorce process and can help you sell your marital home or move into a new one, with minimal stress or complications.
"To make the adjustment easier, we recreate spaces including children's rooms. We can also help divide belongings in a neutral way and coordinate the move and packing/unpacking for one or both parties. We use color coordinated bins to easily organize simultaneous moves", Jami Shapiro says. She is the president and the founder of Silver Linings Transitions, who chose that specific name in alignment with the company's goal to find the "silver lining" for those facing a move, as well as to be a compassionate and understanding resource for adult children who need to move their parents.
They would love to hire individuals who are returning to the workforce after a break, those needing a flexible schedule to accommodate kids in school, and those who would benefit from a compassionate work environment among team members who have been through similar experiences.
For more information about their services, visit their website here https://silverliningstransitions.com/ or give them a call at 760-522-1624 for a FREE consultation.